GILPIN
In the early 18th century there were quite a few GILPIN families living in and around Whitehaven in Cumberland and my research hit a brick wall around 1733/34. Despite other researchers linking our GILPIN line with a more prestigious and somewhat famous one, I have been unable to find a definite connection.
Admittedly after sharing notes with them I was full of excitement at the prospect of an ancestor of mine being at the court of Queen Elizabeth I, but until I can prove for sure that this is so, I will make do with the information I have.
MARY MARGARET GILPIN 1878 mother of GILBERT TAYLOR 1905
MARY MARGARET was born on 8 March 1878 Lower Bentham and was the daughter of WILLIAM GILPIN and MARGARET WEARING. She married JOSEPH TAYLOR on 26 May 1798.
Sadly her parents had very little time together. MARY MARGARET's mother died on 20 Oct 1878 at the age of 36. The cause of death was "Laryngitis (4 days)" which resulted in throat spasm. MARY MARGARET was just seven months old.
As both of his parents were dead, WILLIAM had to rely on his wife's elder sister DOROTHY to help with childcare in order to continue working and he and MARY MARGARET moved in with her and her husband THOMAS JORDAN.
DOROTHY had married quite late and didn't have children of her own, but THOMAS, who was a widower, had grown children from his first marriage.
Yet another tragedy occurred on 5 Sept 1883 when WILLIAM died. MARY MARGARET was left an orphan at the age of five.
WILLIAM 's death was due to tuberculosis.
MARY MARGARET remained with her aunt and uncle until she married in 1898.
WILLIAM GILPIN 1842 maternal grandfather of GILBERT TAYLOR 1905
WILLIAM was born in Bentham in 1842 and was the son of ROBERT GILPIN and MARY THOMPSON.
He was a Flax-dresser by trade and married MARGARET WEARING at St. Margaret's Church, Bentham on 1 Nov 1876. MARGARET was the daughter of WILLIAM WEARING and MARGARET GUY.
WILLIAM and MARGARET's only child was
 MARY MARGARET GILPIN born 8 March 1878 Bentham
ROBERT GILPIN 1817 maternal g-grandfather of GILBERT TAYLOR 1905
ROBERT was born 12 April 1817 and baptised 12 May 1817 at Michael Street Wesleyan, Whitehaven. His baptism record shows that the family were living at Low Mill, Whitehaven at the time of his birth. Low Mill was a hamlet in St. Bees Parish, which is described as being "in the vicinity of Whitehaven, and near the coast of the Irish Sea".
He moved to Bentham with his parents and the move led to his meeting MARY THOMPSON who he married in 1840. MARY was the daughter of ROBERT THOMPSON and ISABELLA THOMLINSON.
Census information shows that ROBERT became a Flax dresser Journeyman, a term which meant that he had served a full apprenticeship, but was not financially able to take on an apprentice himself. He could still claim pay at tradesman rate for any work he did, and would have normally been paid on a daily basis.
The couple's first child AGNES was born out of wedlock, but her birth certificate names ROBERT as her father.
AGNES THOMPSON (GILPIN) born Bentham 1838
married
(a) ROBERT DIXON in 1859
1MARY DIXON born 1860 Bentham
1JANE ELIZABETH DIXON born 1861 Bentham married (1) WILLIAMM COWGILL in 1884
(b) HERBERT PROCTER in 1912
JANE ELLEN COWGILL born 1886 Burnley
JOHN WILLIE COWGILL born 1893 Burnley
1ISABEL DIXON born 1865 Bentham
 1THOMAS DIXON born 1869 Bentham.
1BETTY DIXON born 1872 Barnoldswick
1AGNES DIXON born 1875 Nelson married ARTHUR ALBERT WHEELER in 1895
2BERTHA WHEELER born 1898 Burnley
2ROLAND WHEELER born 1899 Burnley
1WILLIAM HENRY DIXON born 1876 Burnley married JANET GREEN in 1906
2DOROTHEA DIXON born 1911 Burnley married EDEN WRIGHT in 1933
1ROBERT DIXON born 1878 Burnley
1JOHN DIXON born 1880/Burnley died 1888
1ANNIE DIXON born 1883 Burnley
1CLARA DIXON born 1884 Burnley married JAMES ARCHER in 1906
2EDITH ARCHER born 1908
SARAH GILPIN born 1841 Bentham married ROBERT HOLMES in 1865
1WILLIAM HENRY HOLMES born 1865 Bentham
1ROBERT HOLMES born 1869 Bentham
1ISAAC HOLMES born 1874 Bentham
1PHEOBE HOLMES born 1876 Bentham
1ELIZABETH HOLMES born 1878
1CHRISTOPHER HOLMES born 1883 Bentham (emigrated to Canada in 1927)
WILLIAM GILPIN born 1842 Bentham
ELIZABETH GILPIN born 1853
HENRY GILPIN born 1856 married SARAH ANN HARPER in 1886
1ELIABETH GILPIN born 1889 Darwen
1ROBERT GILPIN born 1893 Darwen
1MARY GILPIN born c1896 Darwen
ROBERT died in 1869 aged 55. His wife MARY died in 1876 at the age of 60.
HENRY GILPIN 1776 maternal g-g-grandfather of GILBERT TAYLOR 1905
HENRY GILPIN was a twin. He and his brother JOSEPH GILPIN were baptised on 4 May 1776 at Holy Trinity Church, Whitehaven.
In that same year there was a Smallpox Epidemic in Whitehaven and sadly JOSEPH succumbed to the illness and was buried at Holy Trinity on 8 Nov 1776.
 At the time of HENRY's birth the family lived in Charles Street, Whitehaven but after the death of his father WILLIAM in 1785, HENRY's mother and his siblings moved to a less affluent area of the town. His mother GRACE had been left with five children under the age of nine, and it could be, that having lost the family 'breadwinner' finances gave them no alternative. Charles Street (now demolished) was in the centre of Whitehaven. The area they moved to 'the Ginns' was a little out of town.
As an adult HENRY followed in his father's footsteps and became a Weaver. On 24 Sept 1798 at St. Bees Church, Whitehaven he married SARAH LEATHER who was the daughter of WILLIAM LEATHER and ELIZABETH UNKNOWN. SARAH was baptised at St. Michael's Church, Workington on 3 Dec 1780.
HENRY was illiterate and could only make his mark when the couple married. His elder siblings were literate (at least they could write their names) which would lead me to believe that after the death of his father, when HENRY was nine, the family's circumstances changed drastically and he would have had to go out to work and not have the benefit of an education.
Although a weaver when he married, HENRY's occupation changed in later years to that of a bleacher. Both occupations he carried out in the linen industry. Linen was one of the major industries in and around Whitehaven in the 18th Century, due to the demand for canvas for the sailing ships, and also for household goods and clothing. The Industrial Revolution changed this, and by 1815 the bottom had fallen out of the flax industry in Whitehaven. The smaller manufacturers vanished and others moved out of the area in order to be nearer to the new rail network, which was a necessity if they wanted to compete with places like Manchester and Leeds.
The Hornby family, who owned the Catherine Street mill in Whitehaven decided to move over to Bentham in the West Riding of Yorkshire, and HENRY GILPIN and other GILPIN family members moved with them.
The 1841 Census sees them all living in Bentham.
HENRY and SARAH had several children all born in Whitehaven -
GRACE GILPIN born 1 July 1799 baptised 6 Dec 1801 Holy Trinity, Whitehaven. On some Census information GRACE appears to have married someone named LEEMAN (spelling unsure) between 1840 and 1850, however I have been unable to confirm this. What I can confirm is that she had two children out of wedlock before this -
1MARY ANN GILPIN born 1827 Whitehaven
1JOHN GILPIN born 1825 Whitehaven married CHARLOTTE KAY in 1856
2GEORGE HENRY GILPIN born 1858Otley married ANNIE FALL in 1881
3EMILY GILPIN born 1882Leeds
3ANNIE GILPIN born 1887 Leeds
3ALFRED GILPIN born 1888 Leeds
3ALBERT GILPIN Leeds 1891 married MARY ATKINSON in 1913
4GEORGE GILPIN born 1913 Leeds married MARIAN SPEIGHT in 1939
5JAMES GILPIN born 1941W'dale married JENNIFER STANLEY in 1964
6ANTHONY GILPIN born 1971York
6CHRISTOPHER GILPIN born 1974York
5ANDREW GILPIN born 1947 Leeds
3EMMA GILPIN 1891 born Bingley                       
2SARAH ANN GILPIN born 1860 Adel, Leeds
2ELIZABETH GILPIN born 1862 Otley
2EMMA GILPIN born 1867 Leeds
2ISABELLA GILPIN born 1864 Adel, Leeds
2JOHN ROBERT GILPIN born 1870 Leeds
2ELIZA GILPIN born 1877 Leeds
2ANNIE GILPIN born 1879 Leeds
WILLIAM GILPIN born 7 Nov 1801 baptised 6 Dec 1801 Holy Trinity, Whitehaven married MARY SHARP in 1820
`                  1JOSEPH GILPIN born 1824 Greystoke died 1825
1ANN (ANNIS) GILPIN 1827 born Greystoke
2JOSEPH GILPIN born 1848 Greystoke
2ELIZABETH GILPIN born 1852 Greystoke
1MARGARET GILPIN born 1829 Westmorland
1ELIZABETH GILPIN born 1832 Greystoke
1WILLIAM GILPIN born 1834 Greystoke married SARAH RICHARDSON in 1866
2WILLIAM GILPIN born 1868 Penrith
2ANNIE GILPIN born 1870 Penrith
2MARGARET GILPIN 1873 born Penrith
2SARAH ELIZABETH GILPIN born 1877 Penrith
1MARY GILPIN born 1836 Greystoke
1SARAH GILPIN born 1837 Greystoke
1JANE GILPIN born 1839 Greystoke
JOHN GILPIN born 9 March 1804 baptised 3 April 1804 St. James, Whitehaven married ELIZABETH KELNRADE in 1825
1ANN GILPIN 1821 born Whitehaven
1SARAH GILPIN 1826 born Whitehaven
1CATHERINE GILPIN born 1828 Whitehaven
1MARY GILPIN born 1831 Whitehaven
1ELIZABETH GILPIN born 1835 Whitehaven
1HENRY GILPIN born 1837 Bentham
1GRACE GILPIN born 1839 Bentham
1THOMAS GILPIN born 1842 Bentham
RICHARD GILPIN born 12 March 1806 bap30 March 1806 buried 1 May 1807 Holy Trinity, Whitehaven
HENRY GILPIN born 29 Feb 1808 baptised 20 March 1808 Holy Trinity, Whitehaven married (1) MARY FORSYTHE in 1830
 (2) ANN MYLECREEST in 1856
1JANE GILPIN born 1830 Whitehaven
1WILLIAM GIL PIN born 1831died1869 Whitehaven married JANE CAINE in 1849
2HENRY GILPIN born 1851Cockermouth died 1852
2ANN GILPIN born 1853 Whitehaven married PETER GRANT in 1878
3WILLIAM GRANT born 1879 Whitehaven
3JAMES GRANT born 1879 Whitehaven
3CATHERINE ANN GRANT born 1883 Whitehaven
3BRIDGET GRANT born 1886 Whitehaven
3PETER GRANT born 1888 Whitehaven
3JANE GRANT born 1890Whitehaven died 1892
3MARY GRANT born 1894 Whitehaven
2JOHN GILPIN born 1855 Whitehaven married EMILY MORRIS in 1891
3WILLIAM GILPIN born 1892 Bury
3HARRY GILPIN born 1894 Bury
3STANLEY GILPIN born 1896 Bolton married (1) MINNIE FAIRHURST in 1918
                         (2) BERTHA TAYLOR in 1947
3RICHARD GEORGE GILPIN born 1897 Carlisle
3JOHN GILPIN born 1898 Bolton
3FRED GILPIN born 1903 Bolton
3ARTHUR GILPIN born 1905 Bolton
2MARY GILPIN born 1859 Cockermouth died 1859
1ROBERT GILPIN born 1834 Pendleton married MARY JANE BAWDEN in 1856
2HENRY GILPIN born 1857 Cleator
2MARGARET GILPIN born 1859 Cleator
2WILLIAM GILPIN born 1860 Cleator
2MARY J GILPIN born 1863 Cleator
2SARAH GILPIN born 1865 Cleator
In 1866 ROBERT and his family emigrated to Australia on board 'Queen of the Colonies', however they returned to England and were back in Cleator at the time of the 1881 Census. His wife MARY died in 1882 and ROBERT returned to Australia where he died on 16 September 1900 in Petersham, New South Wales.
1DAVID GILPIN born 1837 Pendleton married (1) JANE TAYLOR in 1855
             (2) JANE HALL in 1873 New South Wales
2JOSEPH GILPIN born 1856 Cleator married ELIZA REYNOLDS in New South Wales
3DAVID GILPIN born N.S.W. married CONSTANCE MYRA GOLDIE N.S.W
4JOSEPH GILPIN born N.S.W. married MARGORIE FARDELL
5HELEN GILPIN born 1943 N.S.W. married BARRY SULLIVAN
2MARY ANN GILPIN born 1859 Cleator
2WILLIAM GILPIN born c 1865
2HENRY GILPIN born 1870 N.S.W. died 1870 in Childbirth
2EMILY GILPIN born c1877 N.S.W. died 1878
2HENRY GLPIN born c1879 N.S.W. died 1881
2EDWARD GILPIN born c1882N.S.W. died 1961
DAVID emigrated to Australia with his brother ROBERT and their families. His first wife JANE and their son HENRY died during childbirth in 1870. His grandson DAVID who was born in New South Wales went on to be a school Teacher and Politician and was Lord Mayor of Sydney in 1927/28 he died 6 June 1995 in Adamstown, N.S.W.
1JOSEPH GILPIN born 1839 Bentham married SARAH BALFOUR in 1861
2DAVID GILPIN born 1861 Whitehaven
2MARY BALFOUR GILPIN born 1863 Whitehaven
2ANN GILPIN born 1867 Whitehaven
2JOSEPH GILPIN born c 1869
2SARAH GILPIN born c1871
2ALEXANDER GILPIN born c 1873
2ROBERT GILPIN born c 1875
2ELIZABETH GILPIN born c1878 Prince Edward Island, Canada
 JOSEPH and his family moved to Canada where they are shown on the Canadian Census of 1880/1. His occupation isn't shown but his religion is shown as Methodist. The family eventually moved into America, several of them settling in New Jersey.
1SARAH GILPIN born 1841 Bentham
ELIZABETH GILPIN born 14 June 1810 baptised 8 July 1810 St. James Whitehaven
JAMES GILPIN born 2 Jan 1813 bap 9 Feb 1813 Michael Street Wesleyan, Whitehaven married (1) MARY WALKER in 1836
 (2) MARTHA GOODIER in 1853
 (3) SARAH FOX in 1876
1SARAH GILPIN born c1837 Barnsley
1ROBERT GILPIN born 1845 Barnsley
1HENRY GILPIN born 1847 Doncaster m LUCY WALKER in 1876
2EDGAR GILPIN born 1879 Barnsley
2EDITH GILPIN born 1880 Barnsley
JOSEPH GILPIN born 20 July 1815 bap 3 Oct 1815 Michael Street Wesleyan, Whitehaven
ROBERT GILPIN born 12 April 1817 bap 12 May 1817 at Michael Street Wesleyan, Whitehaven
HENRY died in 1843 and SARAH died in 1866.
WILLIAM GILPIN c1733/4 maternal g g g-grandfather of GILBERT TAYLOR 1905
I have not yet found the baptism record for this WILLIAM; however I do know that he existed and the following is the information I have obtained from the Parish Registers of St. Bees, Whitehaven and other sources.
 A WILLIAM GILPIN, who's occupation was shown as Weaver, married ISABEL BURTON at St. Bees, Whitehaven in 1755. Three children resulted from this marriage -
JOHN GILPIN born 1758 Whitehaven   
GEORGE GILPIN born 1763 Whitehaven
RICHARD GILPIN born 1765 Whitehaven
The parish registers also show that ISABEL GILPIN wife of WILLIAM, Weaver, died in childbirth in 1765 and that the child RICHARD died two weeks later.
Many women died during or soon after childbirth in the 18th Century and it was commonplace, for men who had been left widowed with small children, to marry again. On a practical note, they needed someone to help bring up the children. If a man was unable to work, he was unable to provide for himself or his children, therefore re-marriage was the answer.
WILLIAM was no exception and he went on to marry for the second time.
His second marriage was to GRACE BROWN who was ten years his junior. Their marriage was by Licence and took place at St. James' Whitehaven on 28 May 1767. GRACE was the daughter of SAMUEL BROWN and HANNAH STEELE
Licences were obtained by those who didn't want to go through the Banns process which involved announcements in church for three Sundays prior to the marriage. Marriage by Licence was often preferred as it was quicker, more convenient and/or more discreet, and in some instances because it was thought to confer social prestige.
A Marriage Licence was only issued after a written allegation of intention to marry was made by the prospective bride or bridegroom (or their representative). This document required them to give the name of their parishes, their age and more importantly they had to declare that there was no legal impediment to the marriage taking place.
Such Licences didn't exist prior to the Marriage Act of 1753** and girls as young as 12 and boys of 14 could marry without their parents' permission. Many did. The new law stipulated that the marriage age, without parental permission, should be raised to 21.
**Lord Hardwicke's Marriage Act of 1753 was intended to ensure that all marriages were legally recorded. The introduction of a compulsory system using Banns or Marriage Licences was intended to prevent problems arising after the marriage. The purpose of Banns and Licence was to ensure that there were no impediments to the marriage. The reading of Banns asks congregations to come forward if they know of a reason that a couple should not marry, whilst the Licence puts the onus on the participants to swear under oath that no such reason exists. To obtain the Licence, a Bond, normally in the sum of £200, had to be signed. This sum would have to be paid to the Bishop if it should turn out, after the ceremony, that there was some reason that the marriage should not have taken place.
The allegation document for the marriage of WILLIAM and GRACE gives the following information –
WILLIAM was 33 and GRACE was 22 - both resided in St. Bees Parish.
WILLIAM's occupation is shown as Weaver and he signed it himself, proving that he was literate and had had some education. By signing the Bond himself it is obvious that he was in a position to pay the £200 forfieture sum should the need arise.
The marriage of WILLIAM and GRACE resulted in the following children
RICHARD GILPIN baptised 23 Jan 1768 Holy Trinity, Whitehaven
JAMES GILPIN baptised 11 Nov 1769 Holy Trinity, Whitehaven
JANE GILPIN baptised 9 Nov 1771 Holy Trinity, Whitehaven
HENRY GILPIN baptised 4 May, 1776 Holy Trinity, Whitehaven
JOSEPH GILPIN baptised 4 May, 1776 Holy Trinity, Whitehaven buried 8 Nov 1776 (death due to smallpox)
BETTY GILPIN baptised 13 Aug 1777 Holy Trinity, Whitehaven
MARY GILPIN baptised 3 June 1781 Holy Trinity, Whitehaven
ROBERT GILPIN baptised 11 May, 1783 Holy Trinity, Whitehaven
On each of his children's baptism records WILLIAM's occupation is shown as Weaver and I have followed this thread to track him down:-
In 1762 the town of Whitehaven held its own census. I found a WILLIAM GILPIN, who was a Weaver, living in a house in Charles Street and the house was owned by yet another WILLIAM GILPIN , Merchant who was living in Scotch Street.
WILLIAM GILPIN the Merchant was the son of another WILLIAM GILPIN, also a Merchant who was related to the GILPIN family who had once lived at Scaleby near Carlisle. Their line can be traced back to the early 1400s.
An article in The Cumberland Chronicle dated 13 Dec 1777 records that the house in Charles Street, owned by WILLIAM GILPIN (who by now is noted as being the ex- merchant of Whitehaven), was, along with other effects, to be sold by Auction on the 31 Dec of that year. It further confirms that a WILLIAM GILPIN Weaver was resident in the house, along with other tenants.
WILLIAM the Merchant was declared Bankrupt in 1778.
In Jan 1779 another article appears in the Chronicle in which a WILLIAM GILPIN is asking that his former customers be aware that he intends starting up in the Wine trade once again!
WILLIAM the Weaver (father of HENRY) died on 20 April 1785 and due to the fact that he was still living in Charles Street when he died, he presumably stayed there after the Auction sale of the house. His funeral was held at Holy Trinity on 22 April 1785
The following is the short notice of his death which appeared in the Cumberland Paquet dated 26 April 1785.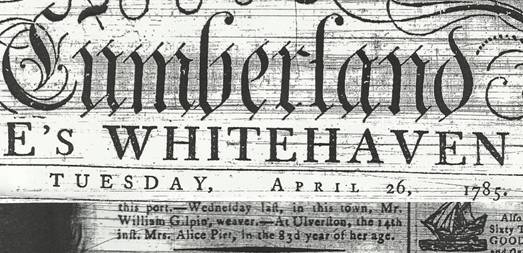 GRACE his wife died in 1797. The family were no longer living in Charles Street, but had moved to an area known as "Ginns", which was a hamlet in the St. Bees Parish, 2 miles south of Whitehaven. The area had initially been built by Sir James Lowther when the Whitehaven Pottery was founded and it was named after what was "The Gin House".
 GRACE was buried at Holy Trinity on 22 Aug 1797.