See http://tinyurl.com/2v7st4n
 John Cattle 1849-1902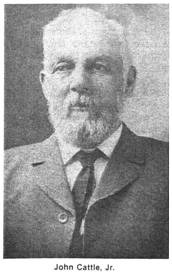 John Cattle 1849-1902 was born in the small hamlet of Eske outside Beverley in East Yorkshire UK and baptised in the village church of Tickton near Beverley.
He was 2 years old in the 1851 census Ref 229a Beverley.
He was the son of John Cattle of Sheriff Hutton near York and his wife Alice Ellen (Sorby). Father John was 32 years old at the time of his birth and his mother 26 years old.
John's father had been a farmer and horse breeder in Sheriff Hutton as had many of his family. John's father moved the family to a large farm in Flintshire Wales on the border of Cheshire and Flintshire, with the farm near Sealand. This 20 year leased farm with the river Dee running through its heart was some few miles from Chester. (Mold Farm)
At the age of 25 in 1874 app., John  and his brother Walter (born in Wales) and a sister travelled out to the USA to investigate the growing farm lands being opened up by the Burlington Rail Road towards the Seward Nebraska area.
On returning to the UK John Married Blanche Ellen Lloyd in Wales on 4 March 1875
Two years later in 1876,  John's father joined them and bought a section of land (3), G Precinct in Seward, Nebraska. Where a fine farm with 1000 sheep and 100 head of cattle developed.
John and Blanche went on to have 6 children.  Lloyd dy.  Winifred, Arthur dy., Garfield dy,  Muriel,  and  Gwendolyn
Father John in his early 60s (1881) bought a private banking company in Seward "The State Bank of Nebraska" which was a monopoly at that time.
John and his brother Walter joined his father  in the banking activities. In 1905 after the death of both father John and John Jr, Walter became president of the bank.
John died in 1902 USA whilst his father lived for some time in Leeds Yorkshire UK.
John Jnr's wife Blanche lived on some number of years and her travels across the Atlantic can be seen in the shipping records thru to 1908 when we see her returning to the USA via New York Ellis Island immigration.
Of their children Winifred married Byron R Newton and had John, Irene, and Margaret.
Muriel married Arthur Anderson and had Winifred and Lloyd
Blanche Gwendolyn married George M Orr and had a John.
Lloyd,Arthur and Garfield all died young.
These details have been kindly contributed by "The Cattle family of Nebraska 2003"