Benjamin Barker 1825-1874
In 1851 Benjamin was age 25 and was a fully fledged plumber and glazier, having been apprenticed to a plumber in Pilot Street, Leeds. He was unmarried, living with his parents, William and Elizabeth, at the Cemetery Tavern in Beckett Street, Burmantofts. Further along the street was the newly-built Moral and Industrial Training School. It would be easy to assume that there was plenty of work there for an up and coming plumber and glazier. In any event he met and married the housemaid who worked there: Hannah Turner.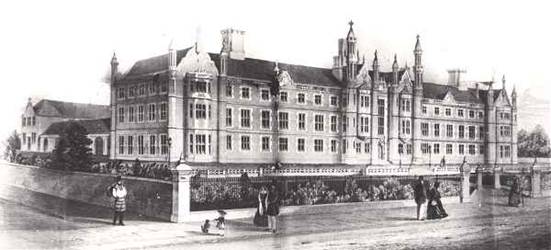 In 1851 Hannah was housemaid at the Moral and Industrial Training School for the Pauper Children of the Township of Leeds, Beckett Street, Leeds, opened in 1848 see http://www.workhouses.org.uk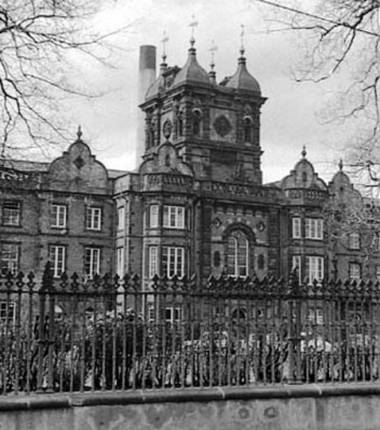 This amazing Victorian pile was later to become St James University Hospital ('St Jimmys'), but it was built in 1858-61 as the Leeds Union Workhouse, incorporating the above Moral and Industrial Training School.
The size and grandeur of the workhouse gives some sense of the extent of the poverty in large cities such as Leeds – and the size of the pocket books of the philanthropic (or guilt-ridden) mill owners who funded such places.
The misery is etched on the faces of the women in the photo below. Being a widow in the 1860s was not much fun.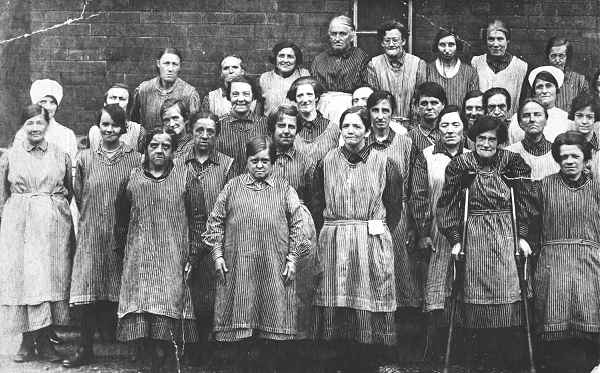 Leeds Workhouse female inmates, photo later than 1861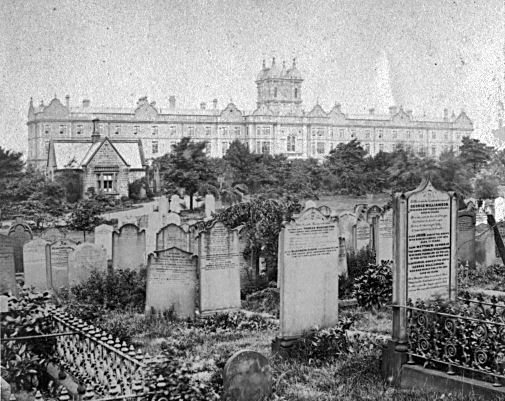 Leeds workhouse from the south, c.1865.© Peter Higginbotham
The Barkers in Leeds
The Barker family hail from Leeds in Yorkshire. This was a town when the Barker dynasty began – Leeds did not become a city until 1893. Leeds is a city built on cloth. The population grew from 10,000 at the end of the seventeenth century to 30,000 at tend of the eighteenth.
With its churches, chapels and meeting houses, Assembly Rooms, Infirmary and its new Cloth Halls, Leeds became one of the busiest and most prosperous urban centres in the north of England.
The Industrial Revolution set Leeds off at a gallop. The population grew to over 150,000 by 1840 and in 1841 the new parish church opened. In 1858 the new town hall was opened by Queen Victoria. But it would be another 40 years before Leeds became a city by Royal charter. By the end of the nineteenth century the population had increased more than tenfold to 430,000.