Captain Hugh Jones Potter - a memoir
handwritten notes compiled by Agnes Usher Potter; transcribed by Evelyn Potter 2006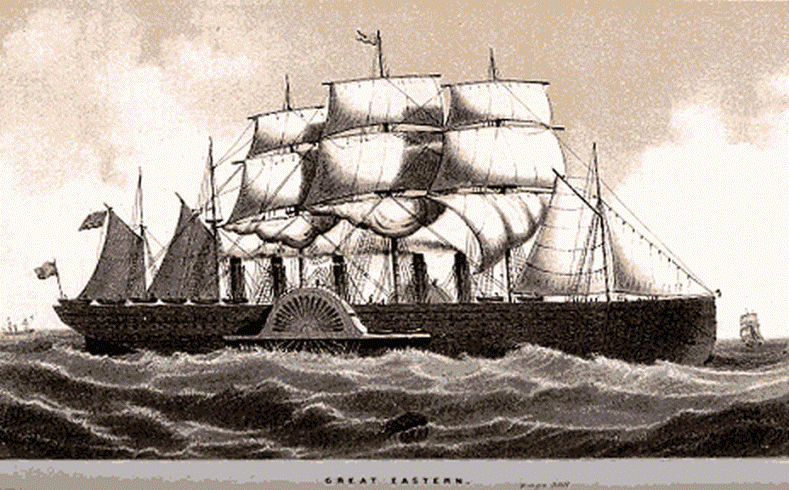 Captain Hugh Jones Potter was a native of Whitby and was brought up by an aunt - Miss Potter. She wanted her nephew trained to be a draper. He ran away to sea, saying 'he was not spending his life measuring yards of tape'. He was on the 'Great Eastern', the largest steamer with four funnels at that time, when a cable was laid to America. The Great Eastern came to Liverpool. He got friendly with Uncle William (Carrie's father), how I don't know, who brought him home to Beaumont St where they then lived and that is how he met his future wife, Mary Agnes Boston. They were married in February 1872 and their first child was born the following 28 November 1872: John Marsden Potter.
Father was captain of the sailing ship Hippolyta owned by the firm Joseph Heap & Sons, rice millers and sugar refiners of Dale St, Liverpool. When Ethel was a baby she went with mother for a voyage to Calcutta and Rangoon and then on to New York. Ethel learned to walk at sea. They were away ten months and we older ones (John, Mary and Agnes) stayed with our grandparents (mother's parents) in Douglas, Isle of Man. Grandpa was asthmatical and the Isle of Man suited him.
On the voyage home from New York, William Frederick Potter was born. Mother saw a doctor in New York who suggested she should stay there until the birth of the baby, but she refused. The baby was born during the voyage home. I think 7 May was his birth day. However he lived only 2 days and died of convulsions. He was buried in the Atlantic 1000 miles from Cape Clear (Ireland). William Frederick came between Ethel and Hugh. Father and all his crew were lost at sea during a bad storm on the Eurynome. The ship was carrying grain in bulk which shifted and the ship could not right itself. Mother was going to France to meet him when she heard the sad news. [It should have been his last trip under sail - his next command was to have been a steamer]. Hugh George was born in June 1881, mother called him Hugh after his father and George after her favourite brother (Rene Boston's father). So father never saw his youngest son, and Hugh never knew his father.