Gertrude Alice Birchall - her maternal ancestry by Margaret Taylor 2012
GERTRUDE (GERTIE) was born in Sandbach, Cheshire on 17 March 1907at 33 Union Street. She was the daughter of CHARLES HENRY BIRCHALL and FANNY ELIZABETH BEDSON and moved to Wigan with her mother, father and her elder sister in 1908. The family first lived in Stafford Street, Spring View where they can be found on the 1911 census. Their next home was in Morris Street, Spring View which led to Springs branch of the railway where CHARLIE worked. They lived there for a number of years before finally moving and settling into 36 Marlborough Avenue. Of the three streets only Marlborough Avenue still exists, the other two having been demolished now for several years.
GERTIE was educated at the Hall of Ince School, commonly known as St. Mary's School, which was then situated on Warrington Road, Lower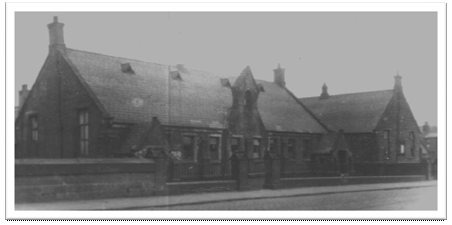 Ince and was adjacent to Ince Cemetery.
She went on to secondary school and when she left at the age of 14, went to work at the Empress Cotton Mill in Anderton Street, Higher Ince. She started work in the card room, operating one of the carding machines which worked like a comb, aligning the fibres so that they would make a strong thread when they were spun. When the women from the card room left to go home, they would be covered in cotton fluff, and as with miners who went home covered in coal dust, the fluff identified the mill girls.
Her next job in the mill was working on the large spinning frames as a doffer. Each of the spinning frames held about 250-300 bobbins on each side and doffers took off the bobbins as they filled with thread and replaced them with empty ones. It was a hard job because the bobbins had to be changed quickly so as not to slow the machines. When one 'side' and was mastered they would move on to two and be responsible for 500-600 bobbins.
GERTIE attended St. Mary's Church, and was in the Girls' Guild. Her mother LIZZIE was a Methodist, and the family would, from time to time attend services and functions held at Hope Street Methodist Church. GERTIE's brothers and sisters, who would later be born in Wigan, were all baptised at Hope Street.
During World War II, GERTIE moved to work at the Munitions Factory at Bradley, Standish where her job was inspecting bullets. She met her husband GILBERT in 1940 when he moved to Wigan; in fact it was actually during an Air Raid that she first saw him -The Air Raid Sirens went off, and as the family didn't have a shelter in their garden, GERTIE, her mother and youngest brother ERNIE were leaving their home to go into the shelter in Mr Chamberlain's garden at number 28. It was night time and as GERTIE reached the front gate, she ran back, because she was in her nightie, and told her mother that she would 'wait until that old man goes past'. The 'old man' was GILBERT TAYLOR, the man she would marry, who had just moved into lodgings in the area and was going to work at Springs Branch. He was 35, just two years older than she was, but she wasn't to know that until they met up again a few weeks later at Wigan Fair. GERTIE married GILBERT TAYLOR at St. Mary's Church, Lower Ince, Wigan on 19 Sept 1942. Witnesses to the marriage were EDWIN WEARING TAYLOR and ALICE CLAYTON.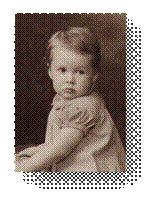 MARGARET ELIZABETH TAYLOR born on 14 Jan 1945 was to be their only child.
Like many married women at that time GERTIE gave up work when MARGARET as born. She was well known in Spring View and as she walked to the shops she was often either singing or whistling. She could be heard before she was seen!. Knitting was her passion and she was rarely without her knitting needles. She would knit for family, friends and even for a local draper, who would ask her to knit garments so that they could put them in their window to advertise the end product alongside the patterns and wool that they sold. Although married to GILBERT for 35 years, she was always known locally as GERTIE BIRCHALL rather than TAYLOR. In fact I grew up being known as GERTIE BIRCHALL's daughter. In April 1977 she was taken ill. Doctors diagnosed the problem as a Hiatus Hernia, and she was admitted to hospital. From Wigan Infirmary, she was transferred to Wythenshawe Hospital, Manchester, where, due to many complications she underwent six operations in the space of 12 weeks. Her grandchildren weren't allowed to go into the hospital to visit, but she could see them through the window. On Saturday 9 July, they were allowed to go in and she and they enjoyed seeing one another. Sadly the day after, Sunday 10 July at 9.50.am she died. Her death was registered in Metropolitan Manchester and after post-mortem the cause of death was given as "I (a) Acute peripheral circulatory failure (b) Paralytic Ileum (c) Acute Peritoneum II Repair Hiatus Hernia". She was cremated at Wigan Crematorium and her ashes were buried along with her parents in the family Plot No. 928/Section A/P Portion of Warrington Road Cemetery, Lower Ince, Wigan.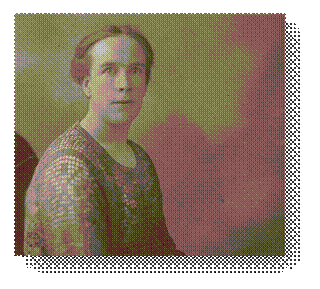 FANNY ELIZABETH BEDSON 1885 mother of GERTRUDE ALICE BIRCHALL 1907
FANNY ELIZABETH BEDSON (known as LIZZZIE) was born on 17 August 1885 in Wrinehill, Betley. WILLIAM BEDSON was thought to have been her father, especially as his name appeared on her marriage certificate. Research though has proved that this is not the case. It has now been discovered that WILLIAM was killed in a mining accident in 1882 and so could not have fathered LIZZIE or her elder brother LEONARD who was born in 1884. Therefore, LIZZIE and LEONARD were the children of MARY BEDSON (nee KEEN) and FATHER/FATHERS UNKNOWN.
MARY BEDSON (nee KEEN) had married WILLIAM on 4 July, 1881 at a civil ceremony in Newcastle under Lyme and soon after they had a child – JAMES BEDSON was born 27 August, 1881 and baptised 23 Oct 1881 Betley.
JAMES appears in the 1891 and 1901 censuses with his paternal grandparents JAMES and ELIZABETH BEDSON and in 1911 with his father's sister CHRISTIANA.
| | | | | | |
| --- | --- | --- | --- | --- | --- |
| 1891 | Wrinehill | 9 | Wrinehill | grandson | scholar |
| 1901 | Wrinehill | 19 | Betley | grandson | drayman – coal mine |
| 1911 | Wrinehill with Christiana | 29 | Wrinehill | nephew | unmarried coal hewer |
The two BEDSON children born 'out of wedlock' lived nearby. In 1891 they were with their mother MARY and her new husband THOMAS BROWN who she had married on 19 Sept 1888 in a civil ceremony in Newcastle under Lyme. The census also shows that they had a younger half-sister GERTRUDE.
1891 - BETLEY
| | | | | | |
| --- | --- | --- | --- | --- | --- |
| THOMAS BROWN | Old Road, Wrinehill | 54 | Oxford | Head | Labourer |
| MARY BROWN | Old Road, Wrinehill | 30 | Betley | Wife | |
| LEONARD BROWN | Old Road, Wrinehill | 6 | Betley | Son | Scholar |
| ELIZABETH BROWN | Old Road, Betley, | 5 | Betley | Daughter | Scholar |
| GERTRUDE BROWN | Old Road, Wrinehill | 2 | Betley | Daughter | BORN 1889 |
The name and relationship anomalies are down to the census enumerator. The 1901 census tells a different story. MARY is not with them but they have yet another half-sister FLORENCE MAY.
1901 - BETLEY
| | | | | | |
| --- | --- | --- | --- | --- | --- |
| THOMAS BROWN | Wrinehill | 64 | Betley | Head | Coal Miner |
| LEONARD BEDSON | Wrinehill | 16 | Betley | Stepson | Coal Miner |
| ELIZABETH BEDSON | Wrinehill | 15 | Betley | Stepdter | |
| GERTRUDE BROWN | Wrinehill | 12 | Betley | Daughter | |
| FLORENCE MARY BROWN | Wrinehill | 8 | Betley | Daughter | BORN 1893 |
MARY had moved on and was living in Wolstanton, 8/9 miles away, as the wife of ALFRED ALDERSEA and a new family. In 1911 this family were still together (see MARY KEEN mother of FANNY ELIZABETH BEDSON), LIZZIE had gone into domestic service when she left school. It was one of the few occupations open to women around that time. Professional people and business people employed 'domestics'. Secondary education wasn't available to ordinary people so she would have left at the age of 13, which was in line with the 1870 Education Act.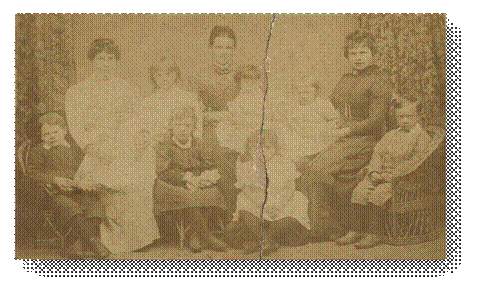 This photograph is the only one I have of LIZZIE when she was a child. LEONARD is also shown. They are the children wearing dark clothing to the left of the photograph. I have always been led to believe that their mother MARY is also pictured, but I cannot definitely say which adult she is. My thoughts are that she is the one seated in the centre of the photograph. If this is the case then GERTRUDE BROWN could be the child sitting on her knee. As for the other adults and children, I can only assume that they are members of either the BEDSON or KEEN families. Whether LIZZIE had any contact with her mother MARY in later years, I don't know, the only mention of her that I heard was Mum saying that Grandma had told her that her mother had left the family.
LIZZIE was 19 when she married CHARLES HENRY BIRCHALL at St. Mary's Church, Sandbach in August 1905. They were to remain happily married for almost 30 years. She gave the name of WILLIAM BEDSON as her father and it appears on the Marriage Certificate. Whether she was aware of the circumstances of her birth I don't know, it could be that MARY had preferred her to think that he was rather than know the truth. For a short time after their marriage LIZZIE and CHARLIE lived in Union Street, Sandbach, alongside his family who had lived there for many years. CHARLIE worked on the railway and was based at Crewe.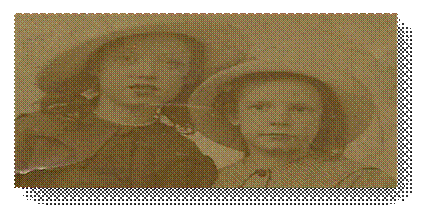 They had two children, both of whom were born in Sandbach. GLADYS MAY was born on 21 Oct 1905 and her younger sister GERTRUDE ALICE was born 17 March 1907. I have noticed that GLADYS was named MAY after LIZZIE's sister FLORENCE MAY, and GERTIE was named after the other sister and her paternal Grandmother. As it turned out none of the girls they had were named after LIZZIE's mother.
The family moved to Wigan, around 1908/9. Around that time there was an influx of Railway workers into Spring View and the surrounding area. Many were transferred from other parts of the country where the need for staff had declined. CHARLIE would have had no choice in the matter, he would have been told to move or become unemployed.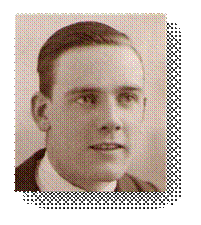 Springs Branch was on the main line between London and Scotland and was also the base for the Engineering Sheds where repairs could be carried out. There were opportunities for those who chose to move. It is likely that he moved to Wigan before the rest of the family. There was a Barracks (lodging house) in Morris Street, which housed rail-workers on a temporary basis. This would give him time to find a home for his family.
Their first home was in Stafford Street and in 1911 the census shows them there. 1911
| | | | | | |
| --- | --- | --- | --- | --- | --- |
| CHARLES HENRY BIRCHALL | Stafford Street, Spring View, | 28 | Sandbach | Head | Railway Goods Guard |
| ELIZABETH BIRCHALL | Stafford Street, Spring View, | 25 | Betley | | |
| GLADYS MAY BIRCHALL | Stafford Street, Spring View, | 4 | Sandbach | Daughter | |
| GERTRUDE A. BIRCHALL | Stafford Street, Spring View, | 5 | Sandbach | Daughter | |
| DORIS BIRCHALL | Stafford Street, Spring View, | 2 | Ince in Makerfield | Daughter | |
LIZZIE was probably pregnant when she came to Wigan as their third DORIS (Dolly) was born soon after. They eventually had nine children, eight of whom survived. DORIS (Dolly) BIRCHALL born 12 Feb 1909 HERBERT (Bert) BIRCHALL born 25 August 1911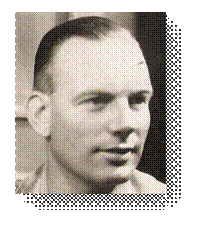 CHARLES (Charlie) BIRCHALL born 16 Aug 1913

JAMES BIRCHALL born 1915 died 19 June 1916 - By all accounts, JAMES was a sickly baby and his Death Certificate gives his failure to thrive as the cause of death. Apparently this was a common cause of infant deaths.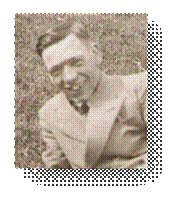 HARRY BIRCHALL born 5 Oct 1917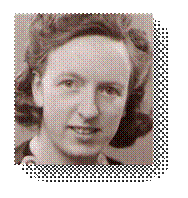 ALICE BIRCHALL born 1 Feb 1920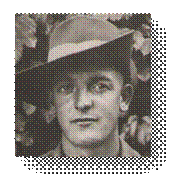 ERNEST (Ernie) BIRCHALL born 20 July 1924
Their next home was in Morris Street which was nearer to CHARLIE's work. In fact the house was right next door to the gate that he had to walk through to get to the sheds at Springs Branch. Exactly when they moved there I don't know, but they were living there when their son JAMES died in 1916. They stayed there for quite a few years and in the Ince Directory of 1925/26 the listing shows –
MORRIS STREET, SPRING VIEW
1 Birchall Charles H – Railway Goods Guard
The Council built a new estate in the 1930s, when there was a further influx of Rail-workers. LIZZIE and CHARLIE, with their family, moved into a brand new home. From a 'two up/two down' terrace, they now had a semi-detached, three bedded home with a bathroom and separate toilet. They also had a 'parlour'.
They enjoyed family holidays, especially with the younger children and the fact that CHARLIE could get 'quarter fares' and 'free passes' through his job on the Railway meant that they could travel around the country more easily than a lot of other people.
As parents they were highly respected and loved by their children who always spoke with affection about the times when they were all living together. The family obviously didn't have much, but what they had they appreciated. They were by no means unique because no one had much in those days.
Sadly CHARLIE died on 1 April 1935. His health wasn't good. He was asthmatic and no doubt living and working in Spring View at that time would not have helped. There was a constant cloud of smoke over the area due to the steam from trains in and around the sheds and the busy branch line.
He died at home and the cause of death was "I (a) Cardiac Failure (b) Uraemia (c) Prostatic Hypertrophy II Spasmodic Asthma". He is buried in Plot No. 928/Section A/P Portion of Warrington Road Cemetery, Ince, Wigan. When the other children married and moved away, GERTIE was still at home. When she married in 1942, she and her husband stayed with LIZZIE who died at home on 29 March 1951. Her death was due to "(a) Myocardial Failure (b) Hypertension (c) Arterio Sclerosis". She was a Methodist and her funeral service was held at Hope Street Methodist Church, Spring View. Her death was recorded in the Methodist Circuit Magazine.
She was buried in Plot No. 928/Section A/P Portion of Warrington Road Cemetery, Ince, Wigan alongside her husband CHARLIE. She left the following Will which was proved in May 1951. Witnesses were Mr G. E. BEBB (Vicar of St. Mary's Church) and his wife.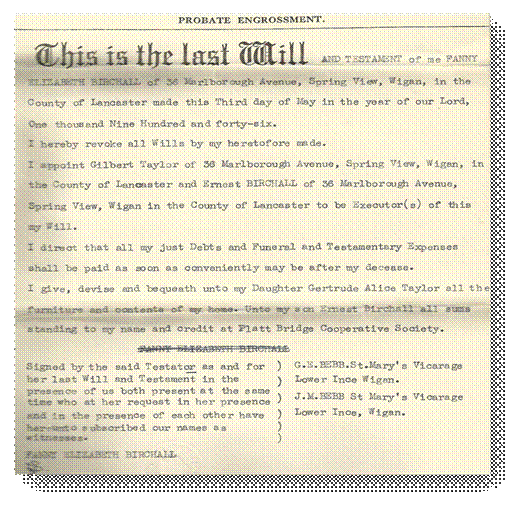 MARY KEEN 1862 mother of FANNY ELIZABETH BEDSON 1885
MARY KEEN was baptised 3 June 1862 in Betley, Staffordshire. She was one of 10 children born to WILLIAM KEEN and ELLEN CARTER.
Finding out about the lives ancestors lived is very difficult unless they were notorious or remarkable in some way. Social history helps by describing what life was like for ordinary people but only offers general information.
Census records are available, but the information they provided is limited, and due to errors in recording they can be confusing. The information they give can only tell us where our relatives were at 10.00pm on a certain date every 10 years.
Additionally any information gleaned from the census needs to be confirmed by looking at registered Births, Marriages and Deaths and obtaining official certificates.
The information on MARY KEEN was obtained using these two means of research and It raised questions for which answers had to be found. That turned out to be harder than was originally thought Starting with